Aquatic area in Quiberon
Campsite with heated and covered swimming pool in Quiberon
During your stay at the campsite ideally located in Quiberon, take advantage of our large heated and covered swimming pool of 250 m² for swimming moments with friends or family. We offer you an exceptional 25-metre long pool, where you can enjoy swimming laps or just relaxing in the water.
After a day's walk along the Côte Sauvage de Quiberon or the megalithic sites of Carnac, come and relax in our many deckchairs and take a dip in our pool, heated to 27 degrees. Our pool can be covered or uncovered, depending on the weather.
A word from Mikael, campsite manager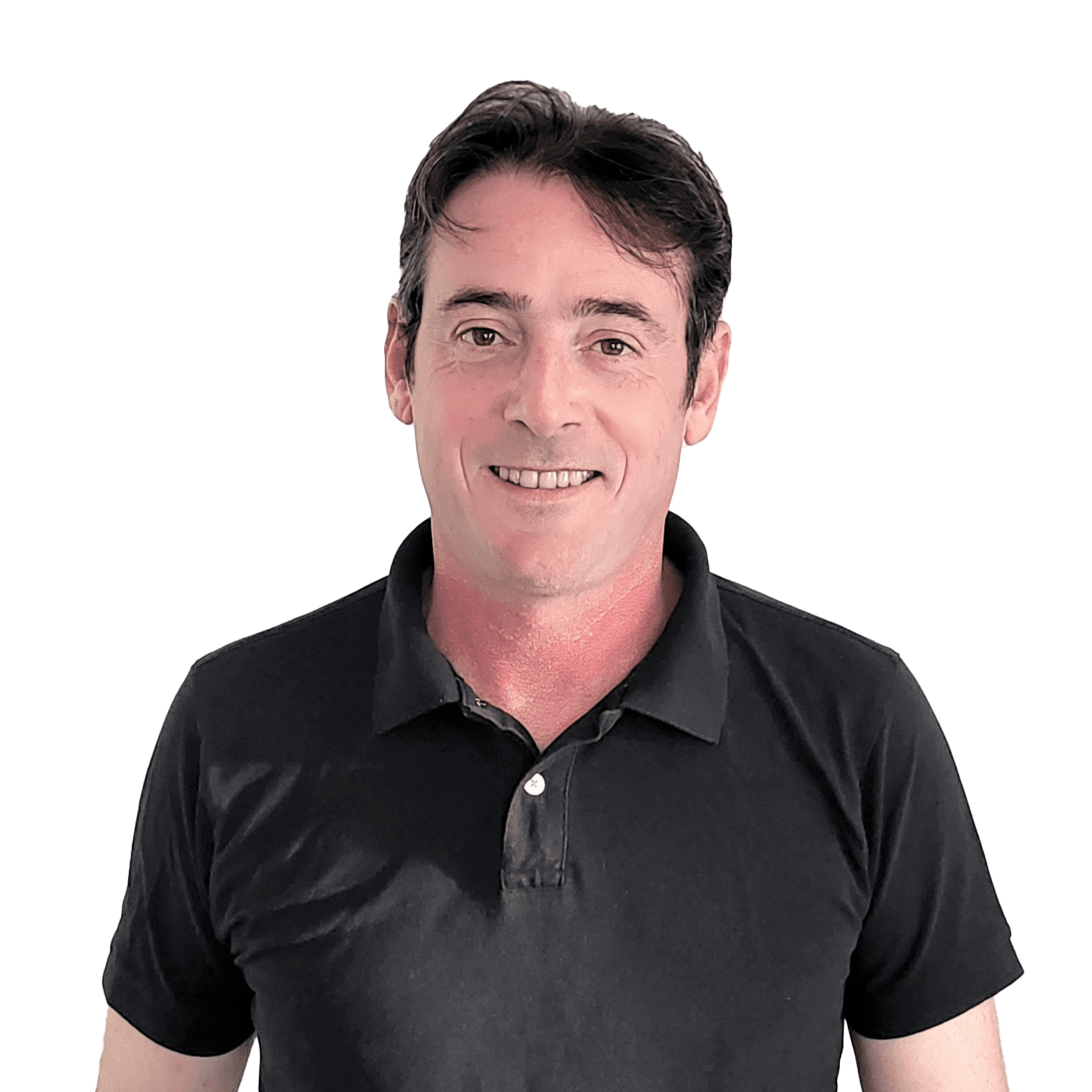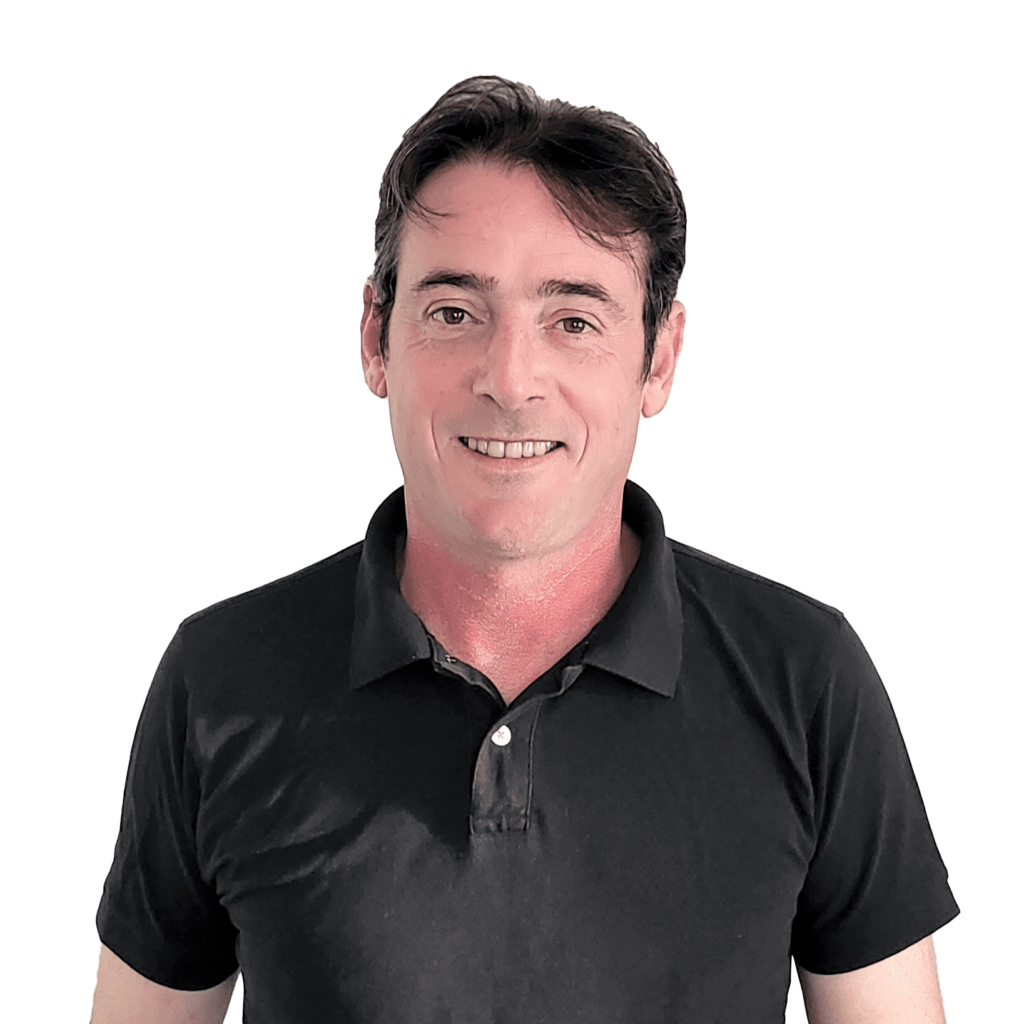 Come and relax by our heated and covered swimming pool. Our aquatic area will delight young and old with its slides and paddling pool.
Dates and opening hours :
Available all season, from 10am to 7pm, until 8pm in summer.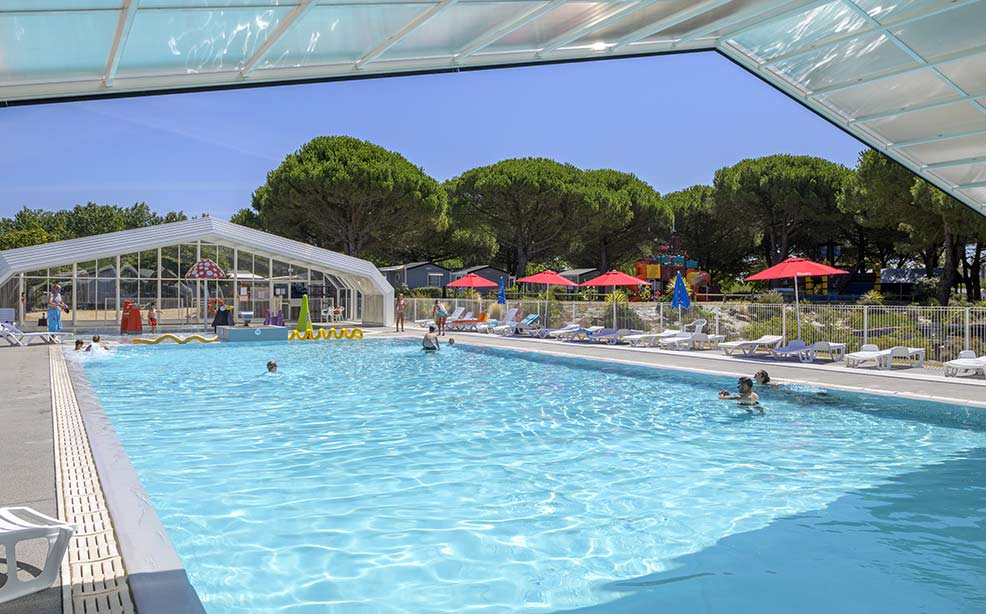 Our waterslides in Quiberon
Come and discover our novelty 2022! During your camping holidays, enjoy with your family or friends the 3 water slides near our heated and covered swimming pool. Enjoy the thrill of the water slides and do it all over again as you please. Climb the stairs of the slides, take a deep breath and slide on one of the 3 tracks of our sliding structure: aquatube or our 2 single tracks.
Children will have fun and enjoy challenging their young friends at the campsite. Who will arrive first? Laughter and fun guaranteed!
Dates and opening hours: from June 2023 from 10am to 7pm, until 8pm in summer.
Campsite with paddling pool in Bretagne
Within the heated swimming pool of our campsite, you will find a paddling pool dedicated to children of 100 m². As a family, listen to your children's laughter and be amazed by their smiles as they splash around in the water of this covered area heated to 27 degrees. A real moment of complicity and fun for both children and parents.
The children loved the slide! We took the opportunity to relax in the massage jets. There was something for everyone.
Béatrice
Our water games in Quiberon
Both adults and children will enjoy the pleasures of water thanks to the many games available in the heated and covered swimming pool of our campsite in Quiberon. They will have fun thanks to our many entertaining installations: mushroom fountain, rainbow slide, water snake.
You can also take some time for yourself by using the bench and the massaging jets in our swimming pool. Treat yourself to a moment of well-being as a family or as a couple at our campsite with water park.
In summer, come and have fun from 8.30 pm to 10.30 pm during the night swimming sessions organised by our campsite.
Swimming spots near the campsite
In addition to the campsite with its indoor swimming pool, the Goviro beach, with its fine sand and clear water, is 150 m away for an exceptional family bathing experience. The closest beach to the campsite, this natural swimming spot will amaze you with its magnificent setting. Order take-away food from the campsite's restaurant and enjoy it on this intimate beach at sunset or during your lunch break.
Walk along the Goviro beach on the Boulevard Chanard and continue your walk to reach the centre of Quiberon and its famous Grande Plage in 20 minutes on foot from the campsite. South-facing, 900 metres of fine sand, view of Belle-Ile-en-Mer and the Turpault castle… this magnificent beach has many assets. People with reduced mobility benefit from its dedicated access and the rental of a bathing chair. Numerous facilities are provided for your comfort: bicycle parking, showers and toilets. For the safety of all, swimming is supervised in summer.
During your getaway, you can also enjoy some water activities in the vicinity of the campsite: kite-surfing, diving, pedal boats, canoeing, water-skiing… Many activities to make the most of the Atlantic Ocean. Find out more about water sports on our page dedicated to water sports.
Choose a campsite with a heated swimming pool in the Morbihan and stay at the Bois d'Amour and you will be choosing a place to relax with your family. Ideal bathing places for young and old will offer you moments of relaxation and escape.
Leisure and rentals on the campsite